e-instruments has announced the release of Session Keys Grand S and Grand Y, two Kontakt based concert grand piano instruments with a new and innovative approach to create the perfect piano sound for music productions.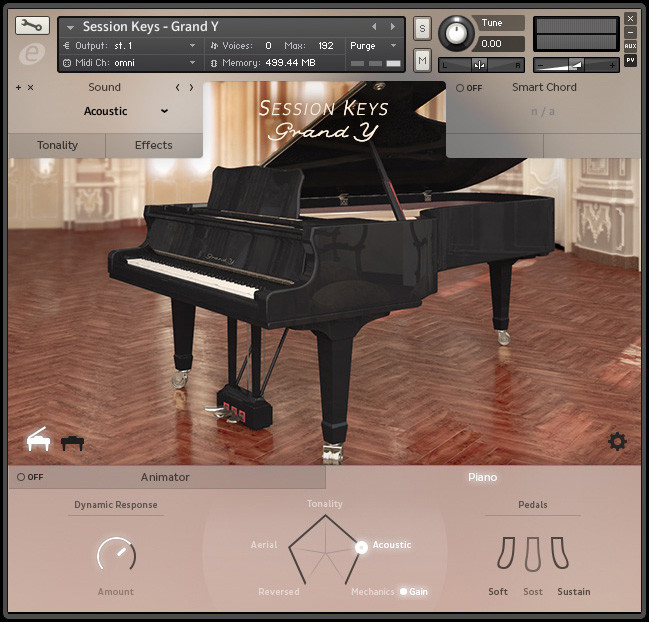 Session Keys Grand S delivers the rich harmonic structure, warm tone, and full resonances of the Steinway D4 Concert Grand Piano, used in numerous concerts and recordings by some of the world's greatest artists.

Session Keys Grand Y captures the clear, transparent and dynamic sound of a Yamaha CFIIIS Concert Grand Piano. Rich overtones, sparkling high end, and a powerful bass range make this outstanding instrument the perfect complement to the Grand S.
Session Keys Grand S/Y features
Concert and Studio modes – Each acoustic flavour has been recorded in precise detail using two separate piano lid positions.
Pentamorph controller – Allows users to easily adjust the Grand Piano's acoustics – from standard characteristic sounds to atmospheres that go far beyond the obvious – as well as create movement on the fly using just one knob.
Session animation – The Animator is designed to generate truly musical piano performances in the most flexible way.
Smart Chords – For instant piano chords at your fingertips, Session Keys Smart Chord Mode provides a completely new and inventive way to add depth of musical expression to your production.
Edit parameters of the Grand Piano in detail – Strengthen the individuality and expressiveness of the instrument, or to take it far beyond its standard sonic signature. EQ, Compression, Convolution Reverb and Delay Effects can all be edited for creative sound design without boundaries.
The pianos are available for purchase for 99 USD/EUR each, or bundled for 159 USD/EUR.
More information: e-instruments