E-RM Erfindungsbüro has announced the release of multiclock, a sync box featuring 4 ultra precise output channels, derived from DAW Audio Clock, MIDI or DIN sync.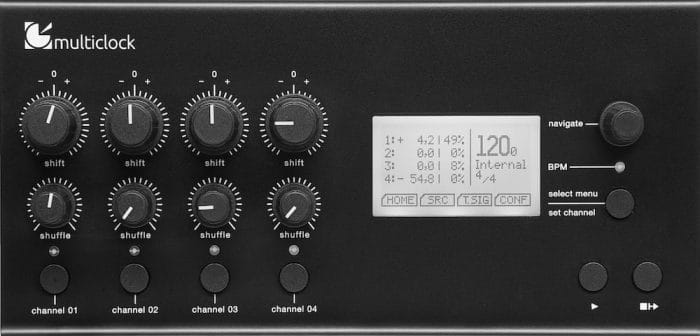 multiclock is an ultra-reliable multi-channel, multi-format sync box that builds a musical bridge between DAWs and external (MIDI, DIN Sync/sync24, and analogue modular) musical gear like no other by converting clock signals for tight integration into digital production workflow without troublesome timing issues, as well as providing helpful and creative realtime shift and shuffle controls to independently compensate for sloppy slave machine delays and also add groove to each creative channel.

multiclock is also available with an additional classcompliant USB MIDI module add-on to enable other MIDI commands to be sent from a DAW to external slave devices while still syncing to the sample-accurate audio clock stream.
multiclock is available for purchase for 449 EUR (classic) / 519 EUR (USB version).
More information: E-RM Erfindungsbüro