Ear Machine has announced the release of EARs, an app that turns an iPhone or iPod touch into a powerful, easy-to-use hearing aid.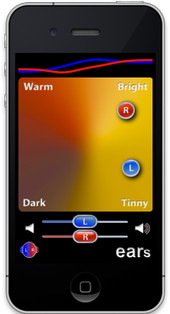 With EARs, users can quickly manipulate the tone of the sounds around them by dragging a single dot around the screen.

"Every listening situation is different, so it's important to be able to customize the tone as you move from one environment to another," said Andrew Sabin, Ear Machine owner and psychoacoustics researcher. "EARs provides a simple interface where users can quickly get the sound quality they are looking for, and then get back to listening."

EARs picks up sounds in real time using the iPhone's built-in microphone or an external microphone. The sounds are processed according to where the user has placed the dot, and then sent out via earphones. EARs can also help if the user has different hearing in their two ears by providing separate controls for the right and left ears.

In the United States, only about one-third of the people who could benefit from a hearing aid actually use one, and self-contained hearing aids can cost as much as $3,000. "We hope that EARs will provide a convenient and affordable way for people with hearing loss to improve their hearing," said Joshua Cooper, co-creator of EARs. "Even if you have normal hearing, EARs can enhance your ability to listen in difficult environments such as noisy restaurants or bars."
EARs is for available to purhcase from the iTunes App Store for $3.99 USD.
More information: Ear Machine