Earcandy has launched PPG 360 Wavecomputer, a Kontakt instrument library that featuring a collection of eccentric, unique and quirky programs from the extremely rare PPG 360 Wavecomputer digital synthesizer serial number 007. Only approximately forty units of this synthesizer were made.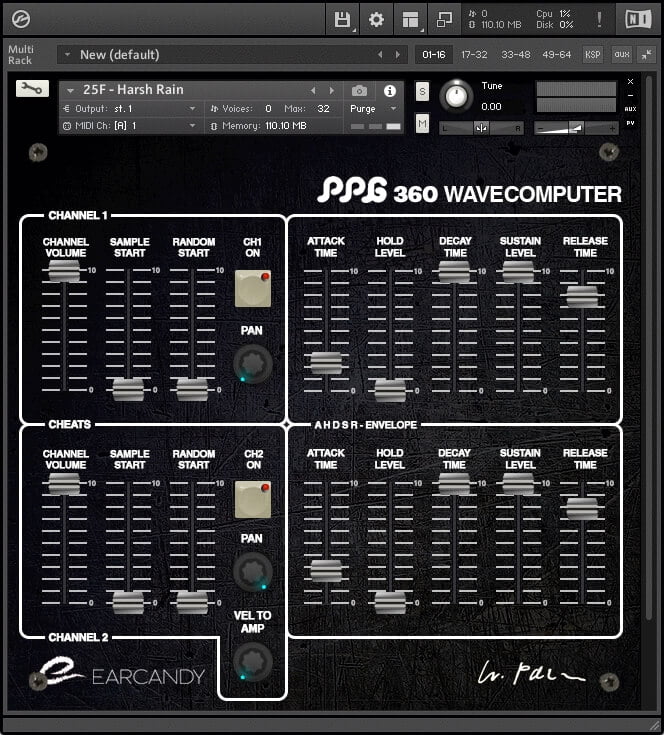 The library contains the 30 factory programs and another 5 programs made by the owner. On top of that 65 programs were made based on the 35 sampled programs using the Kontakt user interface.

You have never heard it's sound this pure and clean and the overall sound of the 35 direct sampled programs are matching the real deal in every detail.

The PPG synthesizers famous voice panning system gives this early eight bit digital synthesizer a great spatial sound and the wavetable synthesis at pure eight bit, gritty and digital, is very much oriented towards sounds in the mid- and higher frequencies.

Don't let the 35 programs fool you. It does not take much tweaking to make new and out of this world sounds.

Try to do some changes to the sample start, random start and envelope settings and you will very soon be listening to some very different sounds. The possibilities are almost endless.
PPG 360 Wavecomputer features
The library consists of 100 programs.
The 30 factory programs plus 5 programs from the owner were sampled exactly as they are on the PPG 360 Wavecomputer one note at a time.
The final 65 programs were created tweaking these 35 programs via the interface directly in Kontakt 5.
More than 3000 samples were recorded through industry leading equipment at 24-bit/96kHz.
All samples were looped and mapped to capture the feeling of the real unit.
Settings like no velocity sensitivity and hard panning voices have been maintained, but via the CHEATS section you can do some stuff not available on the PPG 360 Wavecomputer.
Full polyphony instead of only 8 voices on the real synth. Apart from this not much else has been added.
PPG 360 Wavecomputer for Kontakt 5 (full version required) is available for 49 EUR.
More information: Earcandy