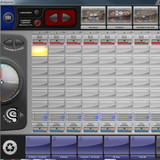 eaReckon has released version 1.1.1 of BloXpander, a music application originally designed to meet the requirements of musicians and engineers in "live" situations.
BloXpander combines the power of a computer and the efficiency of a dedicated device. Its interface has been designed to match this basic specification. It is visually attractive and clear, the construction of projects and the access to prepared instruments and effects is very fast. The plugins manipulation is direct (especially when BloXpander is coupled to an external MIDI controller).
Changes in BloXpander v1.1.1
New Windowed Mode: BloXpander can now work as a windowed application.
You can select a small size window (930×600 min.) to keep space on screen for other applications or, if you have large enough multiple screens, you can choose to display all the 24 channels, 4 aux buses and master bus in a large 3230×900 window. Intermediate sizes are also available. By default, full screen mode is active (Windowed Mode and Window Size settings are available in the "System" panel).
Improved: Better handling of "secured mouse events".
Fixed: A bug introduced in 1.1.0 could have improperly routed MIDI events coming from different MIDI input ports.
BloXpander is available to purchase for Windows PC, priced at 69 EUR.
More information: eaReckon / BloXpander