eaReckon has announced the release of EARevolve, a new audio effect plugin that combines a stereo chorus and a (mono to stereo) rotary speaker.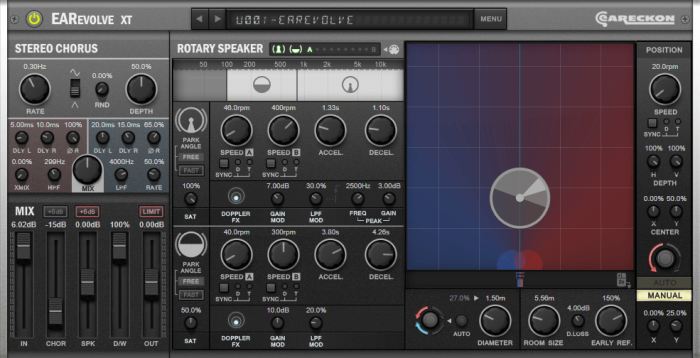 All-in-one, this plug-in is a flexible tool that adds depth and/or controlled movement to your sounds. It is particularly efficient when you want to turn a mono signal into a dynamic and deep stereo sound.
EARevolve features
Chorus:

2×2 lines (2x stereo chorus).
Common parameters: Base Rate, Depth amount, Randomness, Shape (triangle/sine).
1st stereo chorus parameters: Delays (L/R), Right Phase offset, Crossmix, HPF frequency.
2nd stereo chorus parameters: Delays (L/R), Right Phase offset, Rate ratio, LPF frequency.

Rotary speaker

Classic rotary speaker properties (rotation speeds, acceleration, deceleration, saturation) + A/B speed selector and brakes.
Advanced "Horn" and "Drum" properties (Doppler effect, Gain modulation, LPF modulation, Multi-band tool, …).
Adjustable speaker size (diameter).
Rotation speeds are synchronizable to the host tempo.
"Park angle" options. It is possible to set the position (angle) at which a rotor will be stopped. Once this rotor stopped, the angle can be freely manipulated or you can make it follow the center of the room or the microphones.
Advanced microphone settings (adjustable polar diagrams, Mid/Side mode, …).
Adjustable room properties (room size, early reflections, …).
Adjustable position of the rotary speaker + (optional) automated/synchronizable movement of the speaker in the room.
EARevolve for Windows and Mac (VST/VST3/AU/AAX) is available from Plugin Boutique for the intro price of 49 EUR until July 18th, 2018 (regular 79 EUR).
More information: eaReckon