eaReckon has announced the release of TransReckon, a transient processor effect plug-in that will help you to add punch to your drum lines or put some instruments forward (or backward) the easy way.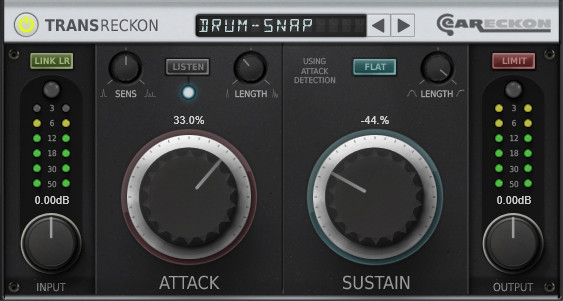 TransReckon provides 'Length' and 'Sensitivity' controls, a 'Listen' mode, a 'Flat Sustain' option and an integrated brickwall limiter.

These options help to go further with the transient processing process. They can be used to reduce artefacts when processing specific instruments (guitars, …) but they also offer creative possibilities (gate and "pre-delay" effects on a natural reverb).

While it is possible to process transients with classic dynamics effects, these rely on a defined threshold which is set manually depending on the incoming signal. A transient processor like TransReckon does not depend on the level of the incoming signal.
TransReckon features
Add punch to your drums and percussive instruments.
Add life to your mixes.
Isolate the prominent elements of an existing loop.
Give more presence to an acoustic guitar or tame the peaks produced by an enthusiastic rhythm guitarist.
Add a gate effect to a natural reverb and/or simulate a pre-delay effect on it.
Tweak the envelope of an electronic drum sound.
… be creative.
The plug-in is available for the introductory price of 39 EUR until July 22nd, 2014 (regular 59 EUR).
More information: eaReckon / TransReckon