eaReckon has updated its TransReckon transient processor effect plugin to version 1.1.0. TransReckon helps you add punch to your drums or put instruments forward or backward in a mix with ease.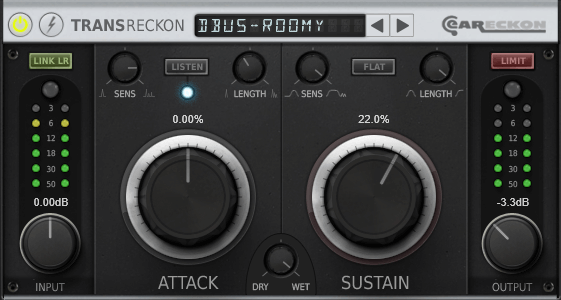 TransReckon provides 'Length' and 'Sensivity' controls, a 'Listen' mode, a 'Flat Sustain' option and an integrated brickwall limiter. These options help to go further with the transient shaping process. They can be used to reduce artefacts when processing specific instruments (guitars, …) but they also offer new creative possibilities (gate and "pre-delay" effects on a natural reverb).

While it is possible to process transients with classic dynamics effects, these rely on a defined threshold which is set manually depending on the incoming signal. If the input level is modified later or if your drummer does not hit his drums at a constant velocity (which is usually a good idea, musically speaking), the transients processing can be more complex to achieve.
A transient processor like TransReckon does not depend on the level of the incoming signal.
Changes in TransReckon v1.1.0
Available as AAX and VST3 (+ VST, AU), 32/64-bit, for Windows and Mac OS X.
New Attack and Sustain "Disable" controls.
By clicking on the Attack and Release labels, it is now possible to quickly disable the related circuits.
Slight GUI modification (Attack and Sustain knobs have been redesigned).
Updated Manuals.
TransReckon is available for Windows and Mac (VST/AU/AAX), priced at 59 EUR. The update is free to users of TransReckon.
More information: eaReckon / TransReckon