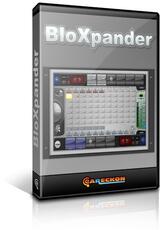 eaReckon has released version 1.0.2 of BloXpander, a music application originally designed to meet the requirements of musicians and engineers in "live" situations.
Changes in BloXpander v1.0.2
New:

MIDI Scene Selection

Now you can open or change a scene from your MIDI controller instead of having to divert your attention to your computer whilst you are playing.
You can assign 2 MIDI switches or pedals to be used to load the next or previous scene and even navigate within the whole current set.
With the "PRG CHG" option activated, any "Program Change" message received from the assigned MIDI input port will make BloXpander load the scene corresponding to the invoked program number.
A delay (2 seconds) before loading the selected scene allows you to subsequently send multiple significant messages from your controller without loading consecutive scenes until you reach the desired one.

Drastically improved Audio engine (optimized for SSE and 3DNow! enhanced CPUs).
Improved handling of scenes files.
Improved synchronization of multiple "threads".
Improved thumbnails generator.
Updated manuals (featuring a page dedicated to the new "MIDI Scene Selection" functionality).
A rare MIDI issue has been resolved (using specific MIDI interfaces, the incoming MIDI flow was corrupted after some minutes).
Various non-critical bugs have been fixed.
BloXpander is available to purchase for Windows PC for 69 EUR.
More information: eaReckon / BloXpander