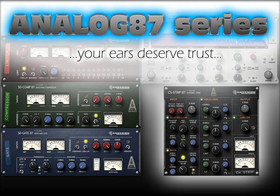 eaReckon has updated its ANALOG87 Series effect plug-ins to version 1.1.3.
The ANALOG87 series features 5 plugins. These have been designed and fine tuned "by human ears" and except for PR-EQUA87, you will not get a lot of visual feedback from them… just good sound.

They have been thought with this idea in mind : "your ears deserve trust"
Changes in ANALOG87 Series v1.1.3
SD-GATE87, SD-COMP87, BW-LIMIT87: Improved handling of internal buffers when the host's audio engine is suspended and resumed. This improvement should provide cleaner results when rendering audio in the context of some hosts.
SD-GATE87 only: New "Range" parameter which can be used to adjust the applied level reduction when the gate is "closed".
The ANALOG87 Series for Windows and Mac (VST) is available to purchase for 99 EUR.
More information: eaReckon / ANALOG87 Series