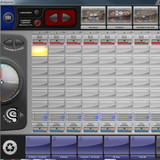 eaReckon has released version 1.2.0 of BloXpander, a music application originally designed to meet the requirements of musicians and engineers in "live" situations.
BloXpander combines the power of a computer and the efficiency of a dedicated device. Its interface has been designed to match this basic specification. It is visually attractive and clear, the construction of projects and the access to prepared instruments and effects is very fast.
Changes in BloXpander v1.2.0
MultiCore processors support

. BloXpander is now optimized for MultiCore CPUs and provide a "per plugin" MultiCore option. If one of your plugin does not work correctly with the global MultiCore support option activated, other plugins can still be processed in parallel. The global MultiCore support option is deactivated by default. It is accessible from the "System" panel.

"Subscenes"

. 16 subscenes per scene are available to backup console states to be instantly called. The audio/MIDI engine is not stopped when switching from a subscene to another. You can then call a subscene during a same song. You can store and call Subscene from BloXpander's interface or via MIDI messages.

"MIDI Sync In"

: BloXpander now understands MIDI synchronization messages coming from an external device/software (MIDI Clock, Start/Stop, Song position, …). If needed, you can activate Sync In and Sync Out concurrently to synchronize all your MIDI hardware from a master unit.
OnScreen MIDI Panic.
New Plugins case 'info panel' replacing Tooltips.
The Input/Output MIDI/Audio ports menu could have appeared when right clicking somewhere on the plugins case.
Some input ports could have been closed when combining specific actions (in "Basic Control + All MIDI Inputs" mode only).
Improved accuracy of the "Hysteria Meter".
Waves plugins should not be accidentally removed from the plugins case anymore.
An extra check has been added to the scene loading procedure. It should avoid potential problems if DLLs are missing.
All "learnable" MIDI values can now be erased. Just right click on a value (labels under gray "learn" buttons) to bring a dedicated popup menu. This 'erase' option is also available from the Main Controller's "Basic Control mode" grid.
Visual feedback of the Scene loading procedure has been modified. Plugins interfaces are not directly shown when loading a scene. During this loading procedure, inserts that need to be filled/updated are colored in blue.
Updated Manuals.
Both the demo and full versions of BloXpander have been updated. BloXpander is available to purchase for Windows PC for 69 EUR.
More information: eaReckon / BloXpander