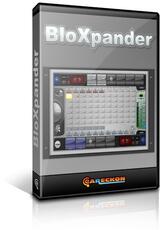 eaReckon has released version 1.1.0 of BloXpander, a major update to the music application for Windows.
BloXpander is a music application originally designed to meet the requirements of musicians and engineers in "live" situations. BloXpander combines the power of a computer and the efficiency of a dedicated device.
Its interface has been designed to match this basic specification. It is visually attractive and clear, the construction of projects and the access to prepared instruments and effects is very fast. The plugins manipulation is direct (especially when BloXpander is coupled to an external MIDI controller).
Changes in BloXpander v1.1.0
New

IO Modules:

A left click on MIDI/Audio Inputs/Outputs and ASIO driver labels brings a panel to front. Even if these panels featuring big buttons are an easier way to select ports from a touch screen, they are mostly a place for some of the new features in version 1.1.0.
The MIDI Input Module provides advanced MIDI routing and processing options. Now you can quickly draw multiple links between MIDI channels and set how each of these links is going to be processed. The MIDI processor includes notes, velocity, CC filters and a global transposition parameter.
The Audio Input Module features a channel selector.

Mini Sysex Librarian: Receive, import, store and send Sysex messages the easy way.
Synchronize external MIDI devices.

Improvements

Info Slot : High Contrast option (just click on the big slot)
Rearrange scenes in a set from drag and drop actions (as for libraries, press CTRL and start to move your scenes using mouse)
Plug-ins set in muted inserts are not processed anymore (CPU friendly)
BloXcanner (plug-ins scanner) does not need a restart anymore when detecting incompatible 64 bits plug-ins or non-VST DLLs.
Updating the state of a Mackie Control compatible device is now done after a 100ms delay when changing volume or pan settings from BloXpander. Motorized faders are less stressed this way.
Updated manuals.

Bug fixes

Minor graphical bugs have been fixed.
BloXpander is available to purchase for Windows PC for 69 EUR.
More information: eaReckon / BloXpander