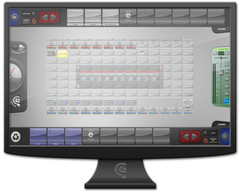 eaReckon has released version 1.2.4 of BloXpander, a VST host for Windows.
Changes in BloXpander v1.2.4
Improvements:

Overall improvement of Audio and MIDI engines.
BloXpander now detects missing audio interfaces and/or problems with your ASIO drivers on startup.
Parameters names (LCD emulator) are now updated in the case of "macro" parameters.
"Virtual pots" of the "main" MIDI controller are now updated on relevant changes from a plugin interface (MC mode only).
Last called Subscene is now underlined.
Volume fades out and in on ASIO restart to avoid audio clicks during some critical operations (only some specific audio interfaces were affected by this problem).
BloXpander remembers Main and "LCD" windows positions.
Adjusted threads priorities (resolves a rare issue -> audio clicks and pops on GUI operations)
New "minimize" button.

Fixed bugs:

The search box (plugins case) is more stable on fast typing.
Plugins providing an empty GUI (null height and/or width) are now correctly handled.
Fixes a bug related to mouse control (which could have been lost in some rare cases).
Fixes a rare MIDI "stuck notes" issue.
Workarounds implemented to resolve incompatibilities with (two) 3rd party plugins.
BloXpander for Windows is available to purchase for 69 EUR.
More information: eaReckon