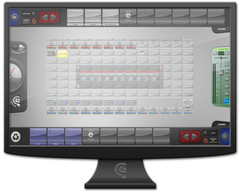 eaReckon has updated its BloXpander VST host for Windows to version 1.3.0.
This VST host has been designed to meet the requirements of musicians and sound engineers in live situations. As a serious musician, you surely need a complete DAW to record your music, but when you are in front of your audience, it may be easier to use something dedicated to live situations.

And during live situations, the access to your instruments and effects must be fast and intuitive. The adjustment of these must be done efficiently, and the necessary software sub layers running on your computer should not be your concern when it comes to play or produce music.
Changes in BloXpander v1.3.0
MIDI Improvements

:

Tempo tap and tempo value can be controlled via MIDI.
Manual edition of MIDI assignments. A control type (switch, knob, …) can also be selected for a better interpretation of incoming messages.
Insert mutes are now controllable from the "Main Controller" in "Basic" mode.
New "Omni" MIDI input option (input slots).
New "Programs map" feature (MIDI Input Panel).
This new functionality can be used to send Bank Select and/or Program change and/or All Notes Off MIDI messages to inserts or MIDI outputs.
The programs map is a "per BloXPander channel" / "per MIDI channel" / "per target (insert or MIDI out)" feature. Programs map are saved with scenes and subscenes and can be used to quickly manage external MIDI devices or VST samplers/romplers.

Audio Improvements

:

New "per channel" output modes. Four output modes are available on each channel:

Stereo (default)
Mono (a mono mix is sent to both left and right channels)
Mono Mix to One Channel (a mono mix is sent to one of the left and right channels)
Only One Channel (one of the left and right channels is just muted)

New Option: "Process Muted Inserts".
At the cost of an increased CPU usage of muted inserts, these latter still process audio while they are muted in order to avoid unwanted residual audio when they are un-muted.

Fixed bugs

:

Some plugins provide an option to change the arrangement of their outputs (number of outputs, mono, stereo, …). When loading a scene featuring assigned "Multi-outputs", BloXpander now checks for changes in plugins' IO.
New workarounds implemented to improve compatibility with some 3rd party plugins.
BloXpander for Windows is available to purchase for 69 EUR.
More information: eaReckon