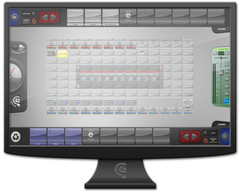 eaReckon has updated its BloXpander host software to version 1.4.0.
This VST host has been designed to meet the requirements of musicians and sound engineers in live situations.

As a serious musician, you surely need a complete DAW to record your music, but when you are in front of your audience, it may be easier to use something dedicated to live situations.
And during live situations, the access to your instruments and effects must be fast and intuitive. The adjustment of these must be done efficiently, and the necessary software sub layers running on your computer should not be your concern when it comes to play or produce music.
Changes in BloXpander v1.4.0
64-bit support: both 32-bit and 64-bit versions of BloXpander can be installed concurrently on a same computer (they do not share the same data folder).
Direct support of jBridge (if available). Please note that BloXpander does not currently feature its own 32-64 bit wrapper. jBridge is a third party tool which is not delivered with BloXpander.
"Smooth Mixer": all controls of the mixer have been smoothed. BloXpander will do its best to avoid pops/clicks and artifacts on a modification of the console state. For example, when an insert is muted, the plug-in it contains is suspended after a short fade out, etc.
The main controller in MC Protocol mode now handles transport related messages and optionally sends time code and metering information to compatible external MIDI controllers.
Improved compatibility with various third party plug-ins.
Alternative "Hysteria meter" that gives more information about latency and ASIO performances.
Better handling of 'hot' sample rate changes.
BloXpander is now resizable as any classic windowed application (the 'maximize' button can be used to switch to full screen mode). It is also possible to hide Aux Returns to get more visible Channels on smaller screens.
Faster loading of samples in the context of a widely used sampler plug-in.
New 'Info' box ('?' button on BloXpander's system panel).
Updated manuals.
… and a lot more things! (replacement of missing plug-ins, improved handling of hot keys, improved MIDI engine, expert options, per plug-in options, unified operation of library and scene slots, less "paranoid" BloXcanner, etc., etc.)…
… almost 50% of the code has been changed, actually.
Fixes a bug related to the MIDI tempo tap setting (was not correctly saved in some situations).
Minor bugs fixed.
BloXpander is available to purchase for 69 EUR.
More information: eaReckon