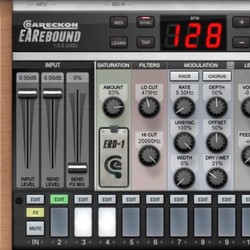 eaReckon has updated the EARebound delay effect plugin for Windows and Mac to version 1.0.2.
EARebound is a full-featured multi-delay plug-in which has been designed to meet a specific need : to quickly create rhythm lines from percussive sounds recorded in various environments (natural, urban, industrial, …).
Changes in EARebound v1.0.2
Solo Mode — Each line (except the "Global Delay") can be soloed for very specific tone shaping.
More divisions — 32th and 64th (+ triplet / dotted) divisions have been added to Modulation and Delay Time Division menus. 32th and 64th sequences are also available from the "Delay Time" menu ("Time Line" view).
Global Edit modes ("Mix View" only).
By activating one of the two provided "Global Edit" modes, you can now change a same parameter across all delay lines (input and global delay settings are excluded from the global edit process).
Updated manuals.
EARebound for Windows and Mac (32/64-bit, VST/AU) is available to purchase for 99 EUR.