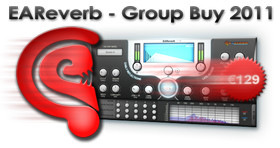 eaReckon has released version 1.1.6 of EAReverb, a reverb effect plugin for Windows and Mac.
Most of all, EAReverb provides a natural sounding, earthy reverb effect. It is able to simulate the subtle reflections of a very small room as well as very large spaces. It is suitable for music and sound design. EAReverb has been designed and "fine tuned by ear" to sound the most possible natural.
Changes in EAReverb v1.1.6
Alternative authorization process. It is now possible to authorize EAReverb by downloading a key file. This key file will be available after some manual verification of your account details. The challenge/response method is still available as a way to authorize EAReverb just after purchase.
New tempo sync options. 1/16, 1/8, 1/4, 1/2, 1/1 (including "Dotted" and "Triplet" modes).
2 new preset categories. "Positioning" presets have been thought to modify the perceived distance between source signal and listener. "Movie Studio" presets have been designed using human, mechanical and natural sound effects as source material.
26 new presets added.
Improved memory management.
Improved "tempo sync" precision.
Updated manuals.
EAReverb is currently available to purchase in the EAReverb Group Buy which has been extended. Users can still subscribe until June 2nd. Between June 3rd and June 24th EAReverb will then be available to purchase for the price level reached.