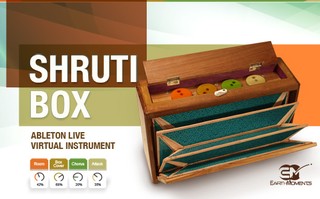 EarthMomenths has recently released Shruti Box, a free sound library for Ableton Live.
A Shruti Box is a small hand-pumped wooden instrument that provides a rich drone background as support to singing or playing almost any instrument.

The use of the Shruti Box has widened with the cross-cultural influences of world music and new age music, providing a drone for many other instruments not typically associated with it.

While normally it has been associated with Indian Music, the Shruti box is enjoying a renaissance in the West amongst traditional and contemporary musicians who are using it for a range of different styles.

We have captured an organic wooden shruti at 96kHz using tube mics and preamps.
The library is available to download at no cost at EarthMoments.
More information: EarthMomenths