EarthMoments has launched Sufi Vocals – Mystic Qawwali Collection, a rare collection of authentic vocals recorded with a diverse cross section of musicians, featuring Pakistani Sufi maestros Rizwan and Muazzam (nephews of the legendary Qawwali singer Nusrat Fateh Ali Khan) and Sufi singers Abdul Ghani, Ajah Maideen and Saburmaideen Babha Sabee (The Nagore Brothers / South India).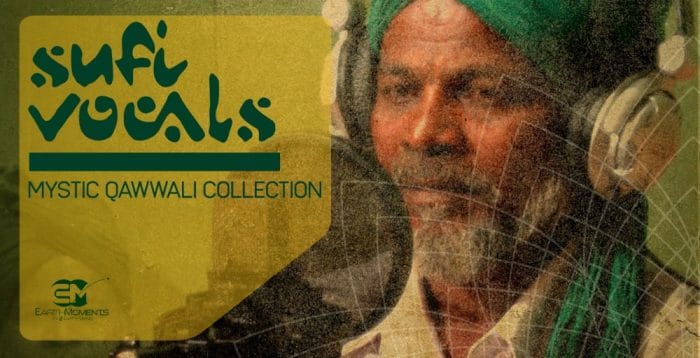 This bundle of high quality samples captures the exotic and powerful vocals of these transcendental performers, and the ethereal spirit of Sufi devotional music.

Critically acclaimed Pakistan Sufi singers Rizwan and Muazzam hail from a renowned lineage of Qawwali music – mystical devotional music based on Classical Islamic and Sufi poetry, intended to lead listeners to reach states of religious ecstasy and union with God. The artists have recorded their imaginative reinterpretations of spiritual love songs along with a full live band, and the spirit and raw dynamism of these evocative performances have been captured in the samples. The Nagore Brothers are compelling performers who use music as a mystical medium to reach states of spiritual awakening, performing at various social and religious ceremonies in the dargah of their hometown Nagore in South India.

The rare sounds and loops in the bundle convey the rich vocal tones and diverse timbres of this esoteric Sufi tradition, and provide an apt starting point of inspiration for any producer looking for fresh ideas. They have been tailor made to fit a wide variety of production styles and genres, and will add an unconventional touch to any production.
The sample pack is available from Loopmasters for £29.95 GBP.
More information: EarthMoments / Sufi Vocals – Mystic Qawwali Collection