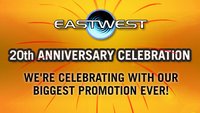 EastWest is celebration their 20th Anniversary with a 2 for 1 promotion.
The promotion offer will be valid until April 30, 2008. You will get an additional product of equal or lesser value free.
Eligible products include Fab Four, Quantum Leap Colossus, EastWest/Quantum Leap Symphonic Choirs, Quantum Leap Stormdrum and lots more.
Note: there is no limit – you will receive one free product of equal or lesser value for each product purchased (Multiple copies of the same product are not eligible).
Looks like a great deal, but I can't help but think they're trying to get rid of some outdated products (since Goliath is replacing Colossus, Stormdrum 2 was just released…)
Check EastWest for the complete list of products available in this anniversary promotion.