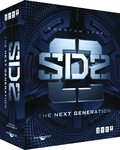 EastWest has launched the PLAY 2-for-1 Special.
Buy one or more PLAY Virtual Instruments between September 5 and October 31, 2008 and get an additional PLAY Virtual Instrument of equal or lesser value FREE!
Eligible products are EastWest/Quantum Leap Symphonic Orchestra (PLAY — any edition!), Fab Four, Gypsy, Ministry of Rock, Voices of Passion, EastWest/Quantum Leap Pianos, Goliath, and Stormdrum 2.
The free product has a price that is equal to, or less than, the price you paid for the first product and it will be shipped with the purchased product for online orders (provided both are in stock).
Visit Sounds Online for detailed information on the PLAY 2-for-1 Special.