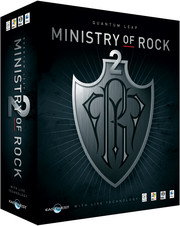 EastWest has announced that Quantum Leap Ministry Of Rock 2, a modern rock toolkit produced by Nick Phoenix, will be released January 11, 2011.
Ministry Of Rock 2 was put together with one goal in mind: to create a virtual (software) instrument capable of producing sounds that could actually produce a hit record or film score without any live drum, bass, or guitar overdubs. The articulations and programming were all reverse engineered from actual performances. The 57 gigabyte collection features LIVE technology which makes multi-sampled drums sound like a live performance.

"Rock music is always in a state of evolution," said Phoenix. "Ministry Of Rock 2 will give users the latest software tools to produce finished tracks. Ministry Of Rock 2 takes the Ministry Of Rock concept to a whole new level of playability and impact."

Recorded at the Legendary EASTWEST Studios in Hollywood, CA, by Phoenix, Doug Rogers, and Rhys Moody, Ministry Of Rock 2 features some of the industries top players like Shane Gibson, guitarist with Stork/Schwarzenator/KoRn, Greg Suran, guitarist with Goo Goo Dolls/Avril Lavigne/Glee, Doug Rappaport, guitartist with Edgar Winter/Potent, and Tal Bergman, drummer with Billy Idol, LL Cool J, Rod Stewart, Terence Trent Darby, Joe Zawinul.

The drums for Ministry Of Rock 2 were recorded in East West Studio 1 on three large rock kits from DW, Gretsch, and Ludwig, along with 6 additional snares. Top vintage and modern gear from Neve, Neumann, Telefunken, AKG, Manley, Fairchild, Royer, Chandler and Meitner were employed for a legendary sound. Repetition samples were recorded for everything as well as extreme dynamics and three mic positions for drums (close + room, or close + compressed room) to dial in the desired sound and an ultra-realistic performance. Any drum from any kit can be selected to create a custom kit, plus there are 6 additional snare drums to choose from.

Ministry Of Rock 2 guitars were recorded on Fender Jaguar, Fender Telecaster Thinline, Carvin 7 String, Baritone, Gibson Les Paul, and Schecter 7 String through Fender, Divided By Thirteen, Marshall, Mesa Boogie, Bogner and Vox Amps. Samples feature round robin, hammer on and pull off legato, sliding legato and dozens of other techniques. Dual channel recordings let you pick a wicked real amp sound or use the direct signal with popular plug-ins.

Ministry Of Rock 2 includes all of the remastered content from Hardcore Bass and Hardcore Bass XP plus an all-new 5 string Musicman Stingray bass with 7000 samples and true legato. Fender, Hofner, Gibson, Silvertone, Rickenbacker, Musicman and Lakland basses were recorded through large bass rigs. No wimpy dry sounds.
Quantum Leap Ministry Of Rock 2 will be available on 11 January, 2011, for $395 USD MSRP. A $295 USD upgrade price is available for Hardcore Bass and Hardcore Bass XP users.
More information: SoundsOnline / Ministry Of Rock 2