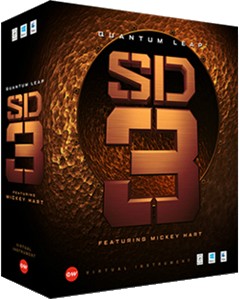 EastWest has announced that its Stormdrum 3 percussion instrument is now available to pre-order.
Stormdrum 3 is the first virtual instrument to include EastWest's new PLAY 4 software. In PLAY 4, EastWest replaced some third party components; added Avid's new AAX format that will allow Pro Tools 11 users to use EastWest's virtual instruments 64-bit, greatly improving performance; added new time-stretch software optimized for loops (with sync to sequencer); added a new mixer page (with sub-channels for mic positions), added background loading, and other new features. To top it all off, EastWest now offers SSL FX from Solid State Logic, the industry leader in mixing technology; and an upgraded EastWest reverb. The new FX section is available as an optional upgrade for all legacy EastWest PLAY collections, but will be included FREE for SD3 users.

In addition, customers who place a pre-order for SD3, scheduled to ship July 15, will be able to use the SSL/EW FX section for other PLAY collections as an additional bonus when available. The FX section includes a SSL EQ and Dynamics Channel Strip, Transient Shaper, and SSL's legendary Stereo Bus Compressor; plus an upgraded "true stereo" reverb from EastWest plus new features. Now, with it's combination of the new PLAY 4 software, the best sound processing tools available, and world class percussion instruments, Stormdrum 3 is the most advanced percussion virtual instrument to date and a must-have.
Stormdrum 3 features
Features the best instruments from the private collection of Mickey Hart.
Features additional instruments from the Remo private collection, hand picked by Remo himself.
Played by master percussionists Mickey Hart, Greg Ellis and Chalo Eduardo.
Produced by Nick Phoenix, "Two Steps From Hell" composer and creator of Stormdrum 1 and 2, epic percussion collections.
Includes tempo synced percussion performances directed and played by Mickey Hart, with Greg Ellis, Chalo Eduardo and Nick Phoenix
Includes 5 user-controllable mic positions for each instrument.
Recorded in the world famous EASTWEST Studio 1, the home of major Hollywood soundtracks and television themes.
Includes new PLAY 4 64-bit/32-bit software on both MAC and PC, more user control and detail than any other collection.
Stormdrum 3 is available to pre-order for $395 USD / 295 EUR (ex. VAT). The projected release date is July 15th, 2013.
More information: Soundsonline / Soundsonline (Europe)