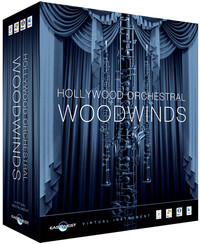 Eastwest has announced it is now shipping its Hollywood Orchestral Woodwinds virtual instrument for Windows and Mac.
Over 70 weeks, the EASTWEST team recorded, edited and programmed every nuance of world-class orchestral woodwind players with meticulous care. The result is a comprehensive library of breathtakingly real woodwind sounds – the perfect addition to the critically acclaimed Hollywood Strings and Hollywood Brass.

Hollywood Orchestral Woodwinds is the most powerful, realistic and complete woodwind virtual (software) instrument, weighing in with a massive 145 GB of meticulously captured realism and detail.

As with Hollywood Strings and Hollywood Brass, this library was sound engineered in the legendary EASTWEST Studio 1 by Academy Award, C.A.S. (Cinema Audio Society), BAFTA, and EMMY award-winning sound engineer Shawn Murphy, who has recorded and mixed the scores for more than 300 feature films including Indiana Jones and the Kingdom of the Crystal Skull, Star Wars: Episode II and III and many more.

Hollywood Orchestral Woodwinds includes Alto Flute, Bass Clarinet, Bass Flute, Bassoon, Clarinet, Contra Bass Clarinet, Contra Bassoon, Eb Clarinet, English Horn, Flute, Flute 2, Oboe, Piccolo Flute, with unprecedented sound quality and expression, true legato plus 5 user-controllable microphone positions (Diamond Edition only); Hollywood Orchestral Woodwinds is designed to work seamlessly with the existing sections of the Hollywood Orchestral series – Hollywood Strings, Hollywood Brass and the upcoming Hollywood Orchestral Percussion – for the ultimate in virtual Hollywood scoring.
Hollywood Orchestral Woodwinds Diamond Edition is now available for the introductory offer of $795 USD ($995 USD MSRP), and Hollywood Orchestral Woodwinds Gold Edition will be available the introductory offer of $475 USD ($595 USD MSRP).
More information: SoundsOnline