EastWest Sounds has kicked off its Black Friday Event, offering 30% off ComposerCloud subscriptions and up to 60% off select individual titles.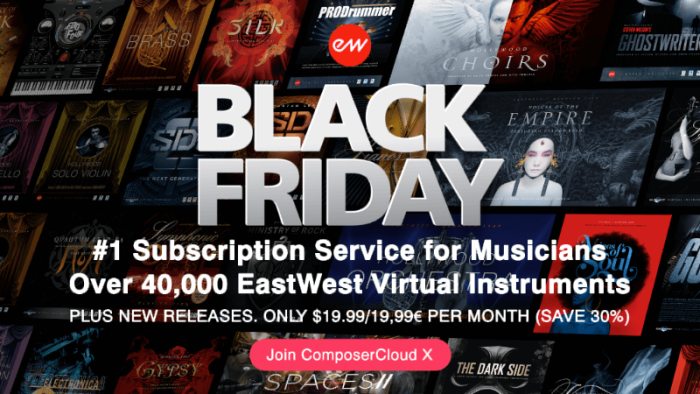 Save over 30% off a year of a ComposerCloud X subscription. This is the sale that composers and producers eagerly await every year and is the best way to get instant access to EastWest's over 40,000 award-winning virtual instruments.

ComposerCloud is the #1 subscription service for musicians. It is the only subscription service to include thousands of playable instruments of every type along with 3 million samples, phrases, and FX.

ComposerCloud includes 63 collections including their brand new powerhouse vocal product VOICES OF SOUL, their new 24-bit convolution reverb engine SPACES II, their new ethnic vocal library VOICES OF THE EMPIRE, and their blockbuster choir library that sings any word you type in – HOLLYWOOD CHOIRS. It also includes all new future releases, so every product EastWest releases over the next year will automatically get added to your plan with no additional cost.

There are instruments included for every music style: orchestral, keyboards, rock/pop, vocals, ethnic, urban, EDM. These are innovative, cutting edge instruments used by the top composers and producers in the industry.
In addition, EastWest is also offering up to 60% off select individual titles as part of its Black Friday Event.
Save hundreds of dollars off blockbuster titles like VOICES OF THE EMPIRE ("truly stunning and impeccably recorded"), HOLLYWOOD CHOIRS ("it sounds like pure magic, 10/10″), HOLLYWOOD ORCHESTRA (the industry's #1 orchestral collection) STORMDRUM 3 ("a must-have for film composers"), GHOSTWRITER ("perfect for action, thriller, horror"), PRODRUMMER (over 100 GB of perfectly tuned drums), PIANOS ("most gorgeous sounding pianos"), and comprehensive ethnic library collections like RA, SILK, and GYPSY.
These Black Friday deals expire December 1st, 2018.
More information: SoundsOnline