EastWest Sounds has announced the launch of its annual Black Friday sale. This year, you can save 45% and get your first year of ComposerCloud X for only $199 USD / 199 EUR.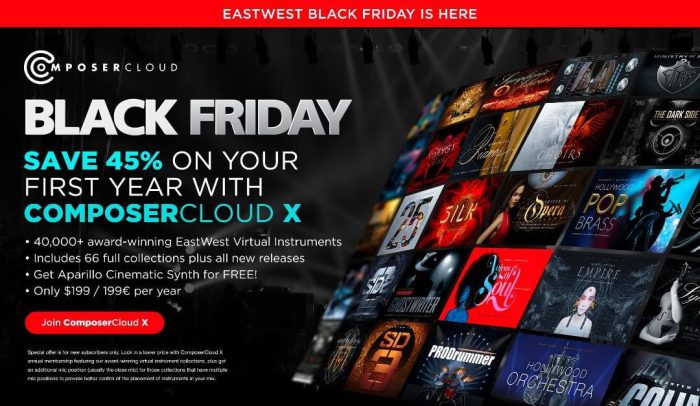 ComposerCloud includes the recently launched Aparillo Cinematic Synth.
Black Friday is a great opportunity to get instant access to EastWest's over 40,000 award-winning virtual instruments with the #1 subscription service for musicians, ComposerCloud.

ComposerCloud offers 66 collections including 2020 TEC Award Nominee for Best Musical Instrument Software HOLLYWOOD POP BRASS, 2020 SOS Award Nominee for Best Virtual Instrument VOICES OF OPERA, the critically acclaimed 24-bit convolution reverb engine SPACES II, and EastWest's blockbuster choir library that sings any word you type in – HOLLYWOOD CHOIRS. It also includes all new future releases, for example the highly anticipated HOLLYWOOD BACKUP SINGERS which will be automatically available to all ComposerCloud subscribers in January 2020.

There are instruments included for every music style: orchestral, keyboards, rock/pop, vocals, ethnic, urban, EDM. These are innovative, cutting edge instruments used by the top composers and producers in the industry. This Black Friday deal will be ending soon so don't miss out!
The offer expires December 2nd, 2019.
Note that you can also save on EastWest's virtual instruments at Pluginfox and the Aparillo synthesizer instrument is currently on sale for only $79 USD as part of a Black Friday Sale on Sugar Bytes plugins.
More information: EastWest