EASTWEST has announced it is offering customers the opportunity to Buy One, Get One Free through the end of June on select products.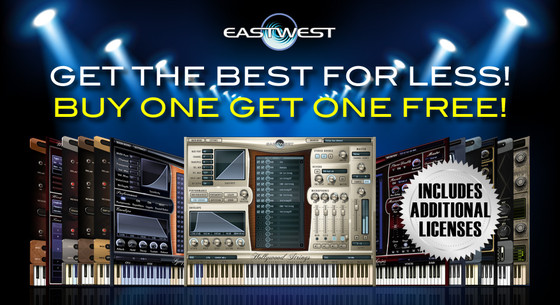 Music creators can purchase any of the following EASTWEST products by June 30, 2012 and get one of equal or lesser value free:

Hollywood Strings
Ministry of Rock 2
The Dark Side
Spaces Reverb
Symphonic Choirs
Symphonic Orchestra (Platinum and Gold)
Goliath
Stormdrum 2
Silk
Gypsy
Pianos (Platinum and Gold)
RA
Ministry of Rock
Fab Four
Voices of Passion

"There's a sense of devotion about these projects, the long months spent recording and programming seeming to go beyond the call of duty. Sample libraries don't get much better than these, and any composer with an ear for sound will find much inspirational material in them," said Sound On Sound Magazine of EASTWEST products.
More information: SoundsOnline / SoundsOnline Europe