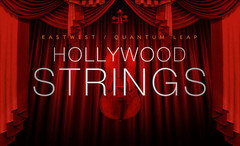 EastWest / Quantum Leap has released Hollywood Strings, a virtual (software) instrument featuring a collection of 44.1khz 24-bit string instruments with unprecedented control over sound and performance, all supplied on a hard drive for ease of installation.
Recording for HOLLYWOOD STRINGS took place at the famous EASTWEST STUDIO 1, the same studio where many Hollywood soundtracks and television themes were recorded with a live orchestra. Heading this project were co-producers DOUG ROGERS, NICK PHOENIX and THOMAS BERGERSEN and sound engineer SHAWN MURPHY.

HOLLYWOOD STRINGS has many groundbreaking features not found in any other collection. Finger position is, for the first time, controllable by the user, so you can play as far up the strings as you want, and get a fuller more romantic Hollywood sound. Vibrato intensity and extensive dynamics are controllable by the user. Extensive multi-dynamic true legato has been sampled for all sections in three different categories: slurred, portamento, and bow change. This results in unsurpassed legato performance that has never been available. HOLLYWOOD STRINGS has five user-controllable mic positions, including main pickup (Decca tree), mid pickup, close pickup, surround pickup, and an alternate vintage circa 1945 RCA ribbon room pickup.
Hollywood Strings is available to purchase for PC and Mac at a special introductory price of $1,495 USD until May 15, 2010 (regular $1,695 USD).
NOTE: Each drive must be built to order, so your account will be charged immediately. Orders will ship beginning May 1 in the order received. Introductory price expires May 15th at midnight USA-Pacific time.
More information: SoundsOnline / Hollywood Strings