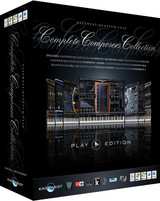 EastWest has announced an upgrade of its popular Complete Composers Collection (HD), a collection of virtual instruments on a hard drive.
At $995, this customizable bundle is the most inexpensive way to obtain seven EASTWEST/QUANTUM LEAP virtual instruments, which now ship on a 1TB high performance Western Digital Black Caviar internal hard drive, which avoids the tedious and time consuming process of installation from dozens of DVDs.

The standard version of the Complete Composers Collection HD includes seven of EW/QL's most popular virtual instruments for music, film, TV, and game composers: EW/QL Symphonic Orchestra Gold, EW/QL Pianos Gold, EW/QL Symphonic Choirs, Quantum Leap Goliath, Quantum Leap Stormdrum 2, Quantum Leap Voices of Passion, and Quantum Leap RA. Individually, these products retail for more than $3,000, including the free hard drive. Purchased in the Complete Composers Collection HD upgrade, they are more than 67% off at $995.

The Complete Composers Collection HD can be customized by replacing any of the standard titles with any other EASTWEST/QUANTUM LEAP title at the same percentage discount off the retail price. Changes may increase the overall bundle price, but enables purchasers to get the absolute best price on these award-winning products.
The Complete Composers Collection HD is available with free shipping until October 31, 2010 for $995 USD / 699 EUR (Standard version).
More information: SoundsOnline / Complete Composers Collection