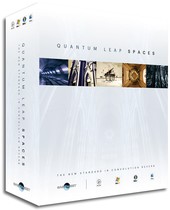 EastWest has announced the release of Quantum Leap Spaces, a 24-bit, true stereo convolution reverb for Windows and Mac.
An arsenal of the best gear that Neumann, Neve, Telefunken, TG, Manley, Sennheiser, Fairchild (to name a few) have produced over the past 60 years was used to create QUANTUM LEAP SPACES, along with the Sony DRE S777 sampling reverb and Meitner A-D converters. ATC monitors were positioned in the room/hall to emulate the real world sound projection properties of various instruments. So an impulse taken for a French horn was created by firing the sweep tones from the middle to left rear of the stage, backwards and slightly towards the floor. 1st violin section impulses were taken by firing a series of speakers at an angle towards the ceiling, just like a real section. A fifth speaker with the high end reduced was fired towards the floor to emulate the body of the violins. This same methodology was used to record reverbs for rock instruments in various LA studios. Because of this, the reverbs in QUANTUM LEAP SPACES have a fantastic balance of early reflections and room sound that really draws a dry instrument into the space, rather than the usual "sound plus reverb" result.
Quantum Leap Spaces features
Produced and Engineered By Nick Phoenix.
Highest resolution, most useful, reverbs available.
24-bit True Stereo, with True Surround capability.
ATC, Neumann, Telefunken, Neve, Meitner Signal Path.
Film Score, Rock, Pop, Jazz, Classical, Esoteric and Dreamy Reverbs.
Low CPU usage, with cleanest signal path possible.
Quantum Leap Spaces is available to purchase as a download for $299 USD / 225 EUR (DVD expected shipping date is week of January 24th).
More information: SoundsOnline / Quantum Leap Spaces