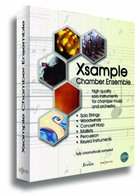 EastWest is now shipping Xsample Chamber Ensemble, a new library of high quality solo instruments for chamber music and chamber orchestra.
The instruments combine thousands and thousands of sounds clever and easy. You can use very intuitive the big amount of alive and diversified playing styles in live and sequencer situations. Xsample works out an elaborated adaptation for the interface of the notation program Finale of Make Music and Sibelius. Due to the harmonic interacting of the Xsample Instruments and the Human Playback your notated ideas become alive in a musical interpreted manner.
Xsample Chamber Ensemble features
All articulations are laid out in one instrument.
Easy handling of the numerous keyswitches through a Kontakt2 script and global occupied keyswitches, so you can find e.g. "sul pont." for violin, viola, violoncello and doublebass always on the same key.
Several instrument-variations (stereo, mono, reduced)
Advantages: Faster loading-times if you use the reduced variations. If your work is done, use the high quality variations. Mono instruments can be better placed in the mix, if you work with big chamber orchestras.
Xsample Chamber Ensemble is available now for a retail price of $795 USD.
Visit Sounds Online for more information.