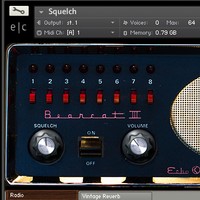 echo | collective has launched Squelch, a full featured interactive radio instrument and sound effects library.
The Squelch sound library is a collection of 6 radios, walkie talkies, and CBs recorded both through the speakers and in some cases through the line outs. Each device served up a broad palette of static, beeps, clicks, squelches, and random idle chatter.

The Kontakt instrument is a unique performable radio device designed for experimentation and discovery of the broad palette of sounds. It also includes a classic spring reverb unit with a custom interface created from a Pioneer SR202W. See the Kontakt interface here.

These authentic radio recordings are useful in sound design/film applications and can be twisted out into musical and sound design effects.
Squelch features
24 bit 96k metadata tagged wav files.
93 unique recordings with hundreds of individual sounds.
1.8 Gb of sound.
1 really cool Kontakt unlocked .nki file.
.nki files require full version of NI Kontakt 4 or higher.
The sound library costs $15 USD.
More information: echo | collective / Squelch