Reverb.com has announced an exclusive pre-order offer for the Echo Fix EF-X2 Tape Echo, with only 50 units available at a special discounted pre-sale price.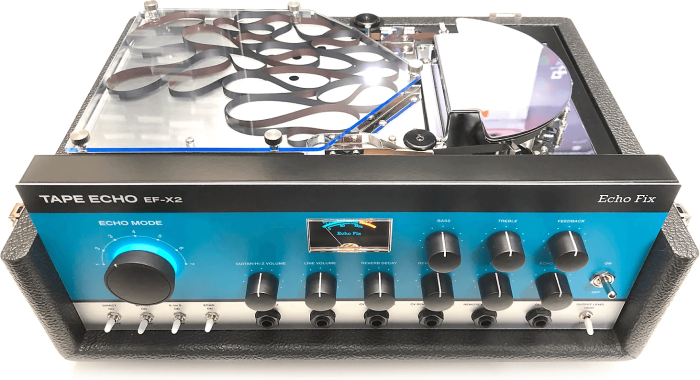 A classic effect, built for modern users – the EF-X2 couples the sounds you know and love, with features and reliability unimaginable in the past.

In designing the EF-X2, the team here at Echo Fix began with the knowledge and insight gained from our work as the world's foremost experts in spare parts, servicing and repairing vintage tape echo units. Put simply, we know how tape echos should sound and operate.
EF-X2 Tape Echo features
Three core functions – tape echo, reverb, and preamp.
Independent inputs (and level controls) for Instrument-level and Line-level applications, plus balanced input and output at rear.
Three echo playback heads, and a Sound On Sound Head giving 11 Head combination Settings in total.
Adjust the echo's Time and Feedback with Control Voltages (CV 0-5 volts) and compatible Expression Pedals.
Bass and Treble control of the echo signal.
Motor ON/Switch for tape slow down effect – or to conserve tape when only using the EF-X2's reverb or preamp.
State of the art DSP Reverb with independent controls.
Mute the reverb or echo signal with a dual foot switch pedal.
Comes with a worldwide-compatible, 100 – 240v power supply (no step-down or other transformers required).
Built tough to last, by someone who's repaired and upgraded more tape echo units than you can possibly imagine.
3 Years Warranty with peace of mind that this is made by a company that has been operating for over 10 years specialising in tape echo repair and spare parts.
The Echo Fix EF-X2 Tape Echo is available to pre-order for $1,450 USD ex. shipping. It is scheduled to ship June 7th, 2019.
Pre-sale buyers can get a free reverb to chorus upgrade (switch that converts the reverb section to chorus). This will be an additional upgrade charge after the pre-sale.
More information: Reverb.com