Boston based sound designer Echo Season has launched a new sound shop with a premium selection of soundsets for Thorn, Padshop Pro, and LuSH-101.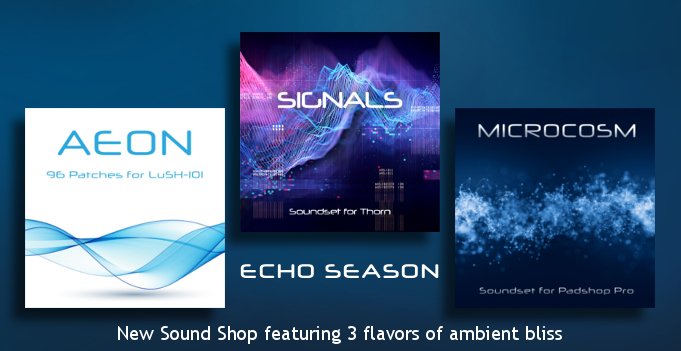 Echo Season has previously released Expanse for Omnisphere 2.5 and Immersion for Dune 2 and 3, available from Luftrum.
With a meticulous attention to detail, and an ear for nuance, his sound can be best described as atmospheric, textured and full of depth.
Signals is a vibrant collection of 76 patches for the spectral software synthesizer Thorn.
Influenced by the recent history of psybient (psychedelic ambient) music, this soundset provides a refreshing tableau of evocative and atmospheric sounds. From lush and ethereal pads, to dreamy keys, intriguing ambient arpeggios, to unique leads and solid bass.
AEON for LuSH-101 features 96 patches covering everything from evolving pads, mesmerizing arps, bottomless bass, to futuristic leads and delicate keys.
AEON brings the analog warmth that LuSH-101 is known for and carries it full circle to the clear and vibrant present.
Microcosm consists of 64 pads and atmospheres for Padshop Pro, offering a range of textures and emotions.
From glistening pads, evolving liquid soundscapes, lush choirs, dynamic living environments, to futuristic rhythmic pads, Microcosm has your atmospheric needs covered.
The soundsets are available now:
Signals: $17 USD.
Microcosm: $15 USD.
AEON: $20 USD.
You can get a 10% discount until July 7th with coupon code openseason at checkout.
More information: Echo Season