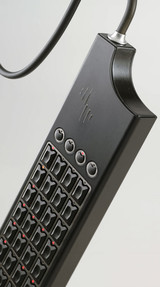 Eigenlabs has announced the Eigenharp Tau, the third instrument in Eigenlabs' groundbreaking portfolio of musical innovations, bridging the gap between the ultra-portable Pico and the professional level Alpha.
Around the size of an electric guitar, ideal for gigging. At less than half the price of the Eigenharp Alpha, the Tau brings the enormous expressive potential of the Eigenharp to within the reach of any musician. The Tau has a minimalist contemporary aesthetic, available in black and silver finishes.

With 72 main keyboard keys, 12 percussion keys, a strip controller and breath pipe it can do almost everything that its big brother, the professional level Eigenharp Alpha, can do – it uses exactly the same software system. Its keys are amazingly sensitive, to within a micron, the wavelength of light. Like the Alpha and the Pico, it plays a limitless range of sounds.
The Eigenharp Tau is available for pre-order for £1899 GBP and will be shipping from 10 May, 2010.
More information: Eigenlabs / Eigenharp Tau