Eiosis has released version 1.1 of AirEQ, an equalizer effect plug-in for Windows and Mac.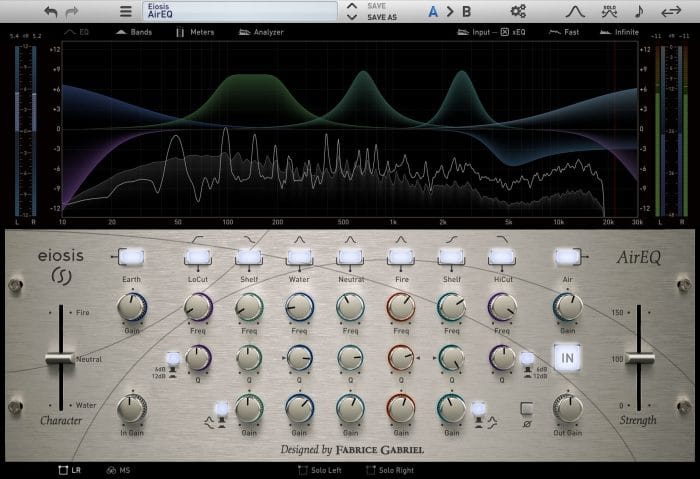 AirEQ was designed with a vision of achieving musical, technical and sonic excellence. Simple, intuitive and quick to use, AirEQ is a musical equalizer plugin at its best. The Water and Fire curves, as the Character and Strength parameters were adjusted by ear, so mixing engineers can focus on one thing making music sound great.

Today we are pleased to bring you a very important update for AirEQ that contains new features, bug fixes, and improvements! This update has been heavily tested and will be compatible with your sessions and presets and is recommended for all users.
Changes in AirEQ v1.1
Steeper Filter Slopes — Three additional slope settings added to the High and Low Pass Filters; now you have 6, 12, 18, 24, and 36 dB/oct filters. Right Click the Filter Slope button to select the Filter Slope Range. And you can still switch quickly between two slopes for quick and easy comparisons.
Resonant 6dB Filters — The 6dB High and Low pass filters can now have resonance using the Q knob. Now, you have both the smoothness of a gentle slope and the flexibility of an adjustable QFactor with AirEQ.
Contextual Help — By hovering over any knob, button, or slider AirEQ will display a list of key commands for that parameter in the lower left corner of the GUI. Contextual Help is disabled by default, but can be enabled from the Configuration menu, under Display > Contextual Help.
Band Solo now works with the High and Low Pass Filters — In previous releases, the Band Solo feature only worked on the five bell / shelf bands. Now it works on the High and Low Pass Filters as well.
New Key Command for Band Solo & Frequency Finder — New key command added that will allow you use to use both the Frequency Finder and Band Solo without switching settings. You can set your preferred Shift+Frequency behavior via the menu in the toolbar. Shift+Frequency will perform your preferred behavior, while S hift+Alt+Frequency will perform the opposite.
AirEQ for Windows and Mac (VST/AU/RTAS/AAX) is available for purchase for $149 USD. Requires an iLok 2.