Eisenberg has announced the availability of EINKLANG Extended, a bundle of the EINKLANG software synthesizer and 5 Tone Packs.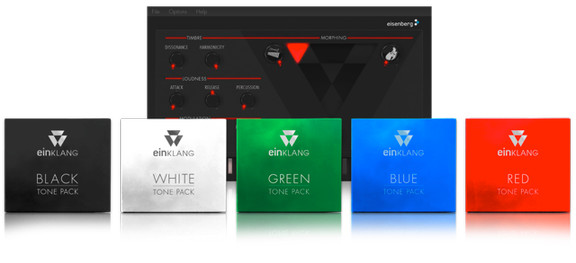 Eisenberg's EINKLANG is a soft synth like no other. After all, a dictionary defines a synthesizer — somewhat simplistically — as an electronic musical instrument that produces a wide variety of sounds by generating and combining signals of different frequencies. Whereas synthesizers traditionally do this according to a strict set of technical parameters, EINKLANG resynthesizes sounds using instrument models based on Eisenberg's Artificial Intelligence Studio Technology (AIST), allowing it to understand the structures of sounds and remember specific nuances of different instruments so you don't have to. Lowering the pitch of a cello affects its timbre in a different way to lowering the pitch of a french horn, for example — just like their real-world counterparts. Conversely, you can even detune a single string from a cello — detuning its overtones, in other words, which is physically impossible for monophonic one-dimensional resonators such as a single string. Clever stuff!

Similarly, those instrument models can be tweaked directly using the minimal TIMBRE, LOUDNESS, and MODULATION musical parameter groups — all of which affect the sound more deeply than might first appear possible, thanks to that powerful AIST engine. Elsewhere, instrument models are also morphed seamlessly from one sound to another using the MORPHING triangle with three slots for tone colours. Cleverly, EINKLANG is the first synthesizer to introduce a strong synaesthetic link between sound and colour with all GUI controls responding to MORPHING triangle relationships in corresponding colours — just like white light is able to travel through the colour spectrum in additive colour synthesis. Morph three tone colours together as one and everything is illuminated in pure white. It's all in einklang (agreement). As a result, musicians can concentrate on doing what they do best — making musical sounds, without having to first familiarise themselves with overwhelming technology.

EINKLANG itself comes complete with 150 tone colours for morphing purposes, ranging from acoustic to synthetic. But by bundling it with RED Tone Pack, GREEN Tone Pack, and BLUE Tone Pack, plus the recently-released premium WHITE Tone Pack and BLACK Tone Pack, Eisenberg has considerably extended its sonic reach — so much so that it's almost like playing a completely new EINKLANG each time!
EINKLANG Extended is available to purchase for 239 EUR / $239 USD.