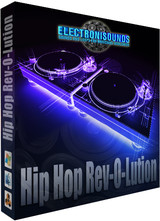 Electronisounds has released Urban Legends: Hip Hop Rev-O-Lution, a new sample library by Junebug, JTEKK & Rhythm Lab.
All You hip-hop, rap, illbient, down-tempo and trip-hop fans looking for a NEW sound – This is what you've been waiting for!! This sample collection will take your music to new heights! THREE top-notch music producers giving you all their flava in one downloadable sample collection!

This is not your typical 'boring old skool hip-hop' sample collection – these unique sounds and loops will take your music into new territory!

With over 2,500 all-new samples categorized into over 135 folders, this is truly "Digital Crate Digging" at it's best! These samples will keep you coming back to 'Hip Hop Revolution' for years to come.
Urban Legends: Hip Hop Rev-O-Lution features
1.28 GB content, over 2,500 all-new samples (16-bit, 44.1Khz).
Drumloops — With drumloops provided by all 3 producers, you'll definately find the right kind of groove you need for your tracks! We all have a different style of making beats and this gives you a huge pallete of sounds and styles to choose from. The drumloops here are all filed by BPM and very easy to use in your tracks. Junebug has even provided a wealth of VOCODED drumloops — which are perfect for breaks, intros or just to add some more melodic expression to your tracks! We've also included .REX2 files of all of the drumloops that could be sliced! These .REX2 drumloops are so versatile, they really work at just about any bpm – and are also PERFECT for breakbeat mixes.
Drum Sounds — Over 1,000 individual drum one-shots. Hip Hop Revolution Drums, Mouth Percussion, Claves, Block, Rap-A-Delic Drums, Lo-Fi Vinyl Drums, BONUS Vinyl Drums, Tom's Lo-Fi Drums, Analoggy Drumkit, JTEKK's Urban Drumkit & Rhythm Lab's chopped up drum beat slices & MORE!! There are enough phat drum sounds here to keep you making new beats for YEARS to come!!
Chords — Another motherload of sweet chord samples from Junebug – a selection of Rhodes chords, and a folder of Misc. Chords. All sorts of sounds perfect for downbeat stabs, breaks and intros, etc.
Pads — We've hooked you up with over 125 all-new incredible pad one-shots samples, grouped into "looped" and "non-looped' folders! Most samplers can read "loop points" in .WAV samples, which means you can hold the note down as long as you like without the sample cutting off.
Musical Loops (without drums) — Junebug has given you a handful of inspirational loops that can help kick start your new songs. All named by bpm and key so you can slide them into your existing tracks, too. Some very unique flava here – everything from funky "down-south" banjo riffs to "low-rider" bass loops! Many are provided in .REX2 format as well.
Hip Hop Grooves — Junebug and JTEKK have created a wide variety of "grooves" for you to start new tracks with. These are drum beats with some sort of melodic element(s) included over them. They are supa-phunky and very versatile! We've also included .REX2 files of many of these grooves as well! The loops range from 1bar, up to 32 bars long!! Get yourself a mic and a rapper and you'll have new tracks finished in no time.
FX — You'll get your bleeps, blasts and sweeps up in here! Just the kind of "freeky" sounds you've been wanting!
Bonus Content — 112MB / 337 samples: Drum Sounds (from Evolved Beatworks), Misc. Acoustic One-Shots (from Mello Synthetic), Nickel Jungle Drums (from DnB Void), Rhodes Loops (from Trip Hop Explosion), Rude Basses (from Rhythm lab – Neuro Funk).
Urban Legends: Hip Hop Rev-O-Lution is available to purchase as a download for $24.99 USD.
More information: Electronisounds