Elektron has announced that it is now shipping Analog Heat, the stereo analog sound processor that excels in treating audio in both beautiful and radical ways.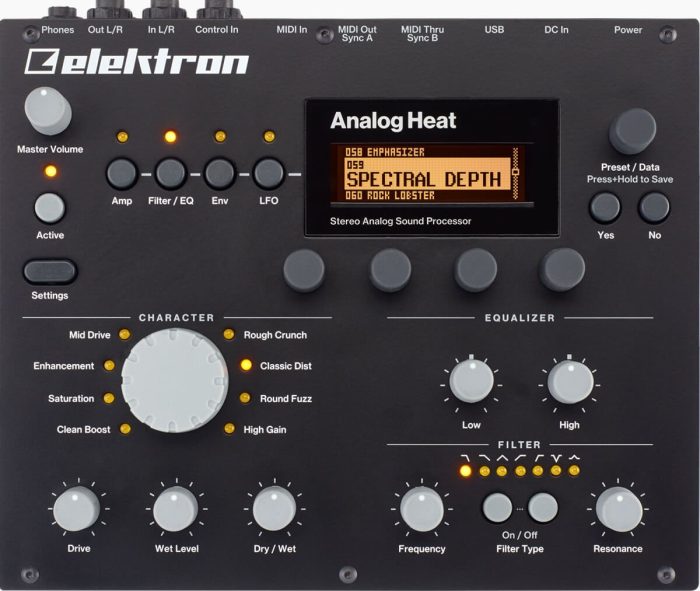 Analog Heat features eight stereo analog distortion circuits, designed to provide excellent sound shaping opportunities. They are capable of applying everything from warm tape-like saturation to harsh over-the-top distortion.

To further affect incoming signals, the stereo analog multi-mode filter and the 2 band stereo analog EQ are available. Modulation sources include an assignable envelope and an assignable LFO, making it easy to create rhythmical textures and re-shape beats.
Analog Heat features
Sound better — Take a sound, any sound. Send it through the Analog Heat, try out the eight different stereo analog distortion circuits, add stereo analog filtering and EQ, and hear beautiful things unfold. New life for your existing gear.
Plugin control — Overbridge essentially allows your Analog Heat to be used as a VST/AU effect plugin. Connect the Analog Heat to your computer and conveniently smooth out the edges of all digital sounds. Incredibly useful for bringing your mixes to life.
Sound card operation — One of the most prominent Analog Heat features: it can function as a 2 in/2 out sound card, even while processing DAW audio. Perfect for the traveling musician. Create as you go and make stellar, high quality recordings wherever you may roam.
Analog Heat is available for purchased for $749 USD/799 EUR/£679 GBP. Overbridge support coming very soon.
More information: Elektron / Analog Heat