Elektron has introduced the Analog Four, a four voice analog synthesizer with state-of-the-art digital controls.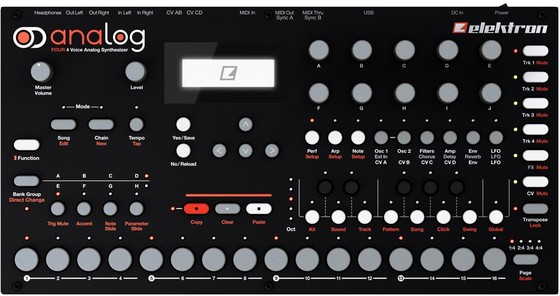 Analog oscillators and filters ensure the most organic sounds imaginable and the Elektron step sequencer caters for the innovative sound control. With sequencer features like parameter locks and variable length per track, intricate Analog Four compositions can be created quickly and efficiently. Add the completely new and incredibly well-crafted effects to the mix and experience the next chapter in analog sounds. It just sounds right.

Not only a splendid sound making device, the Analog Four can also make other gear sing. Thanks to the CV/Gate and DIN sync outputs, legacy analog gear can be controlled in great detail. Sequencer features like arpeggiators and parameter locks will breathe new life in old equipment and make any modular synthesizer rig truly come alive.

Live performance features are aplenty. The special performance mode gives direct access to user-defined parameters and direct pattern change makes it possible to change patterns at any sequencer step. The arpeggiator can be instantly toggled on or off for swirling melody lines. Improvising when playing live has never been this easy. The Analog Four was born for the stage.
A limited amount of units is now available for pre-order for 1099 EUR/$1149 USD/£899 GBP. Units will be sold on a first come, first served basis. Shipping starts December 3rd, 2012.
More information: Elektron / Analog Four