Elektron has announced Analog Rytm, an 8 voice analog drum machine with sample support.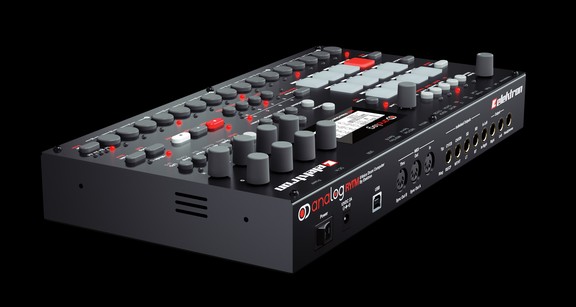 The eight drum voices take advantage of several dedicated analog circuit designs, each of them fine-tuned for generating specific classes of analog drum sounds. A diverse range of software parameter sets provide direct access to various parts of the circuitry, ingeniously enabling the unusually wide spectrum of drum sounds the Analog Rytm is capable of producing.

The full percussive potential is realized by the clever sample engine. It allows every voice to be spiced up with customizable and highly bendable samples, which can be layered with the analog drum sounds. The perfect unity of analog circuits, a flexible sample engine, and a lightning-fast digital control system simply goes beyond.

Plenty of tools are available for shaping the vibe of the beats. The parameters controlling the analog circuits and the sample engine can push rhythms to extremes.
The special warmth and rawness of the Analog Rytm are courtesy of the analog multimode filter and analog distortion circuit of each voice. The FX send section, comprised of a reverb and a delay, adds polish and shimmer to the beats-and before they hit the sound system, the analog compressor and analog distortion of the master channel will ensure their proper pump and grit.

Twelve backlit, multi-colored, pressure & velocity sensitive pads are used in tandem with the Elektron step sequencer for easy and immediate beat creation. When on stage, the performance mode and the scene functionality provides several ways of drastically manipulating beats live. The Analog Rytm is a one stop solution beat machine, suited for any rhythm-oriented context.
Analog Rytm will be available Q1 2014. Preliminary price is set to $1549 USD/1489 EUR.
More information: Elektron / Analog Rytm