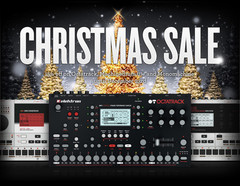 Elektron has launched a Christmas Campaign, offering 15% off on three of its products.
The Octatrack was released about a year ago. Since then we have read glowing reviews of our latest creation, seen prominent artists use it live and heard it featured in music made by users all over the world. In short: the Octatrack has been a major hit for us. We are very grateful for that and want to give something back to you.

In our Online Shop the end price of the Octatrack, the Machinedrum UW and the Monomachine will therefore be lowered by 15% until Dec 23.

Happy Christmas!
More information: Elektron