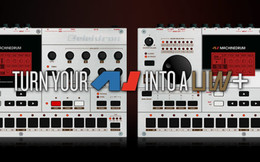 Elektron has announced an upgrade program for its Machinedrum SPS-1 MKII drum machine.
Users of the Machinedrum SPS-1 MKII now have the opportunity to upgrade their machines and turn them into the world's no1 drum machine.

The upgrade will equip a Machinedrum SPS-1 MKII with the UW sample engine and a +Drive, transforming the SPS-1 MKII to a full-blown Machinedrum SPS-1UW+ MKII. The upgraded unit will also ship with a TM-1 interface and a USB cable.

To upgrade the unit it needs to be sent to an upgrade point. Upgrade points exist in Sweden and the US. For customers living in Italy, Australia and Japan, please contact the distributor there.
The upgrade is available for $715 USD (includes taxes, shipping and handling).
More information: Elektron