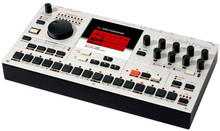 Elektron has announced the release of OS 1.62 and Sound Packs for Machinedrum, a drum machine that combines extremely flexible drum synthesis methods with a sampling engine.
The new Machinedrum OS 1.62 adds the much asked for feature of letting you rename ROM samples. The Sample bank quick access mode and the possibility to write protect Snapshots and Sample banks are other convenient features this update brings. Because of the new OS functionality the Machinedrum manual and the C6 SysEx tool have been updated as well. Download the new OS, manual and C6 version in the Support and Downloads section.
Elektron has also introduced Machinedrum Sound Packs, a collection of tool kits for almost any genre.
No less than seven Sound Packs are now available, consisting of a total of 23 Snapshots linked to 23 dedicated Sample banks. Each Snapshot features 4 patterns demonstrating the content of the Sample bank. The 500 samples are studio recorded, 100% royalty free, and found nowhere else.
All Machinedrum SPS-1UW+ MKII units now come with these seven Sound Packs pre-installed. When upgrading a UW MKII with a +Drive they are included as well.
Current Machinedrum UW users can download the Sound Packs in the Support and Download section.
Note though that they are specially made for UW MKII models as some of the Sample banks exceed the sample memory limit of the UW MKI.
More information: Elektron