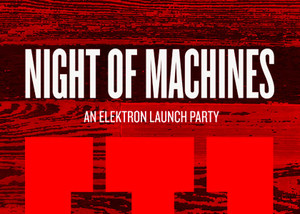 Elektron has announced it will launch its new product at Night of Machines, taking place November 23rd in Berlin.
A new machine from Elektron is on the horizon. To celebrate it, Elektron will throw a big party in Berlin.

The event is called Night of Machines, the date is set to November the 23rd, and during the evening the new machine will make its official debut.
The launch party will include live performances by Very Special Guest (Kompakt), TM-404—a.k.a Andreas Tilliander (Kontra-Musik), Cascandy (Monaberry), and Andre Kronert (Stockholm LTD, Neurotron), and DJ's Dataline, and Marlon & Karxman.
The event will take place at Humboldthain in Berlin (doors open at 23:00 hours).
More information: Elektron