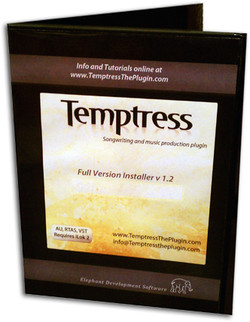 Elephant Development Software has announced availability of its Temptress, a plug-in providing inspiration and modern musical production elements within a powerful virtual instrument.
Temptress is a new concept for songwriting and productions. Unsurprisingly, Elephant Development Software assembled a team of top songwriters and producers to create contemporary musical content while simultaneously expertly engineering an exciting new way to integrate chord progressions and musical phrases into user's productions in any key and at any tempo they choose (using an innovative industry-leading pitch shift and time-stretch engine) — all in realtime, locked to the host sequencer!

Temptress is both a blast and a breeze to use. The simple yet powerful browser in the Temptress plug-in window provides previews of the diverse musical content in its ever-expanding library — all but a click away. Whether pop, rock, dance, hip-hop, or country floats your musical boat, the huge (over 3GB) TEMPTRESS CORE library's hundreds of cues have got you covered. Future libraries will provide cues in ever-expanding genres and will even work in conjunction with previous libraries to
expand their creative possibilities. Feel free to utilise the plug-in's already awesome-sounding audio elements or the actual MIDI data used to create the cues. The choice is yours. Either way, simply drag-and-drop directly from Temptress to tracks in the host DAW to have stunning-sounding musical phrases immediately available at your fingertips. It's surely simplicity itself.
Temptress features
Huge Core Library (over 3GB comprising hundreds of cues) with more expansions coming all the time.
Musical cues covering popular music styles, including pop, rock, dance, hip-hop and country.
Ability to audition and use cues at any key, tempo or time signature utilizing a fantastic industry-leading pitch shift and time-stretch engine.
Musical cues created by renowned producers and programmers using the latest and most popular synths and sound banks.
Ability to drag-and-drop audio and midi clips from plug-in window directly to your DAW's tracks.
Cues can be sorted by style, tempo, key or time signature and auditioned in real-time, locked to your sequencer.
Compatible with DAWs and sequencers that support VST, AU, or RTAS plugins.
Inspiration at your fingertips.
Temptress is available to purchase for $149 USD.
Visit Temptress for more information.