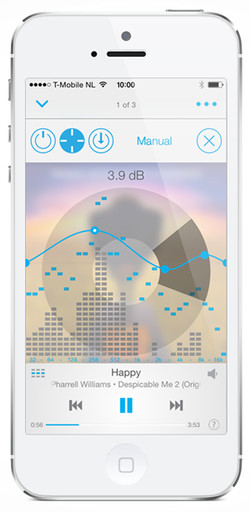 elephantcandy has announced the release of EQu for Spotify, the first quality equalizer for Spotify.
In 2010, audio software company Elephantcandy introduced audio equalizing for iPhone. With the EQu app, Elephantcandy created the famous equalizing curve that has become the standard in audio equalizing apps ever since. Now we take it to the next level with EQu for Spotify.
EQu for Spotify features
Pounding bass and crispy highs — Equalizing is the key to get the perfect sound from your system. EQu for Spotify is the first iPhone app that allows premium Spotify users to equalize their Spotify music. Subtly adjusting the spectral balance makes it possible to optimize audio to your speakers, headphones and acoustic environment. Top-notch technology wrapped up in a user-friendly interface.
FFT Equalizing — Whereas conventional equalizers allow you to amplify or attenuate predefined bands, Elephantcandy's equalizer makes it possible to design an extremely precise and smooth frequency response by directly manipulating more than 1.000 discrete bands. EQu's linear phase design also preserves all of the music's fidelity and introduces no spatial distortion.
Extra options — The standard version of EQu for Spotify is free. In-app purchases allow for more presets and offer a full version of the app, including extra precise tuning and the option to make and save personal presets.
EQu for Spotify is now available in the AppStore as a free download. The full version is available as an in-app purchase for $2.99 USD, and a presets pack is $0.99 USD.
More information: elephantcandy / EQu for Spotify