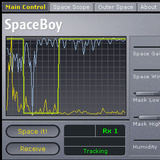 Elevayta has released version 5.04 of Space Boy, an effect which utilizes proprietary RASP technology to bring fully automatic adaptive EQ to the realm of digital audio music production.
Elevayta Space Boy is recognised as the most original, convenient and highest quality way to perform sophisticated dynamic EQ (and some other clever things).
Version 5.04 adds a new "Space Walk" algorithm which provides a smoother walking average. Space Boy is now also fully compatibility with Vista and Win 7.
Space Boy features
Unique communicating Transmit/Receive context sensitive plug-in pair.
Elevayta proprietary Real-time Adaptive Spectral Processing (RASP) technology ensures real-time compensation of competeing frequencies between multiple audio tracks.
Unique 'Wormholes' function shows the frequencies that compete.
The 'Wormholes' detection mode – Automatic spectral peak analysis (cross-correlation) for detecting and displaying common dominant frequencies between different tracks.
Export of 'Wormhole' peaks for import to Voxengo GlissEQ available from www.voxengo.com.
Manual spectral peak analysis (up to 5 cursors with frequency display) in both Tx and Rx mode.
'Deep Space' mode – Overdrive the 'Space Boy' effect up to 200%.
Native assembler code audio processing to provide significantly reduced CPU load.
Space Boy is available to purchase as a VST effect plug-in for Windows PC, priced at $29.95 USD.