ELPHNT has announced an updated version of the B3 Tonewheel Organ, a Max for Live device that was built to model the organ sounds of classic rock.
The new version offers drastically reduced CPU usage, improved sound quality, a new Chorus effect, default modwheel mapping, envelope controls, and more.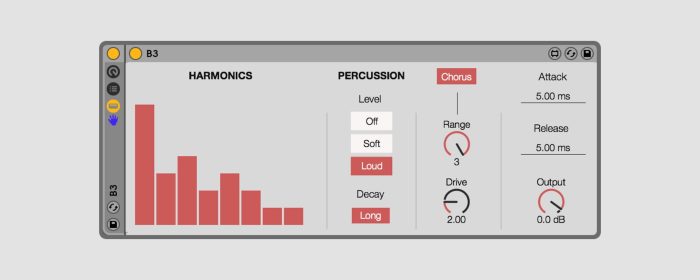 B3 is a MaxForLive device built to model the sound of the tonewheel organs used in classic recordings by artists such as Santana, Booker T, The Doors, Led Zeppelin and others. But B3 doesn't stop there, its 8 harmonics (or drawbars) allow you to sculpt a wide range of tones for your sounds, from classic screeching organs to ambient drones and pads.

Use the Percussion section to add a percussive 'key click' to the attack of your sound. Add Chorus / Vibrato or Drive to colour your sound and use the Attack and Release controls to take your sound beyond what is possible with a classic tonewheel organ.
B3 for Ableton Live is available for $20 USD. The previous version of B3 is available to download completely for free.
The B3 organ device is also included in a new MAXFORLIVE bundle, which includes all of ELPHNT's Max for Live packs for just $24 USD. Other new bundles are available as well: FREE (free), PRESETS ($40 USD) and EVRYTHNG ($90 USD).
Make sure to use coupon code rekkerd at checkout to receive an additional 25% OFF your order!
More information: ELPHNT / B3 Tonewheel Organ