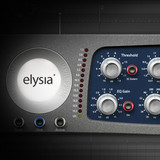 Elysia has announced the mpressor plugin, an emulation of the mpressor hardware compressor unit.
The mpressor plugin is the as close as it can get emulation of our famous creative compressor. Its all discrete circuitry and its special character have been translated into software in all the painstaking details by the specialists from brainworx. The result is an outstanding universal compressor as well as a dynamics effect machine which will significantly enhance the potentials of your sequencer.

The plugin has all the great functions of the hardware which can be combined in many ways: Auto Fast for attack makes life easy even on longer attack settings. The Anti Log function offers an alternative release curve that can be engaged for instant pumping effects. In addition to standard ratios, the mpressor also provides negative values. Combine this with its extremely fast attack times, and you will be able to create completely new signal envelopes.

The Gain Reduction Limiter regulates the virtual control voltage and keeps even the most extreme settings under control – completely independent from the threshold and ratio settings. The additional filter is a perfect fit for changing the compressed signal in its sound character. The possibility to control the mpressor by an external sidechain to get things grooving makes for further flexibility.

Whatever you are looking for: a high grade sum compressor, a flexible tool for single instruments or an inspiring dynamics effect processor – the mpressor delivers. Discover all the options.
mpressor plugin features
True Emulation

— The compression behavior and the sound character of the hardware have been recreated in a complex process to match the hardware as close as possible.

Oversampling

— In order to achieve the best results also on lower sample rates, the mpressor plugin uses an increased internal resolution in these cases.

Mousewheel Support

— Setting parameters with the mouse can be pretty annoying – for this reason the controllers of the mpressor can be easily moved with the mouse wheel.

Auto Fast

— Originally developed for the alpha compressor, this switchable semi automation ensures a perfect attack on the basis of the value set by the user.

Anti Log

— This alternative characteristic of the release curve follows an antilogarithmic course instead of the linear one and produces a much more audible result.

Negative Ratios

— The characteristic curve bends and goes back down! Heavy pumping, backward sounds, etc. – perfect for very cool compression effects.

Audio Filter

— The mpressor plugin of course also features another popular function of the hardware version: the easy yet very flexible Niveau Filter.

External Sidechain

— You want to create frequency dependent compression or have it accented by the groove? The sidechain function makes it all possible!

Gain Reduction Limiter

— This novel limiter is not placed in the audio path as usually, but restricts the virtual control voltage of the plugin instead.
The mpressor will be available for PC and Mac (RTAS/VST/AU) in November with a TDM version following in December. Pricing TBA.
More information: Elysia / mpressor plugin